Choose Kind started as a grass-roots effort by Fort Herriman teachers to help students positively influence their peers. We believe our students have the power to make our school a place they and other students want to be. This starts with how we treat each other. Choose Kind consists of lessons on how to be kind to ourselves and to others, and periodic kindness challenges. We encourage all of Fort Herriman to reach out, stand up, and "Choose Kind!"
---
CHOOSE KIND KICK-OFF WEEK SEPT. 9-13, 2019
---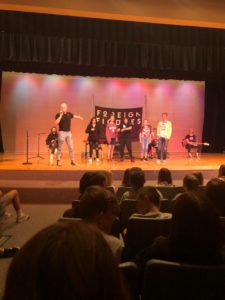 Monday Sept 9 – Be a Choose Kind Champion Kickoff Assembly hosted by Stand4Kind. Guest Speaker Ben Kjar and musical guest Foreign Figures!
Tuesday Sept 10 – Time Out for Coping Skills Day (students learn strategies to help cope with life).
Wednesday Sept 11 – Pitch In and Do a Good Deed.
Thursday Sept 12 – Give It Your Best Shot Hourly Kindness Challenge Cards.
Friday Sept 13 – Forward Pass of Compliments and Kindness.
2018-19 CHOOSE KIND HIGHLIGHTS
---
CHOOSE KIND ON THE NEWS!
---